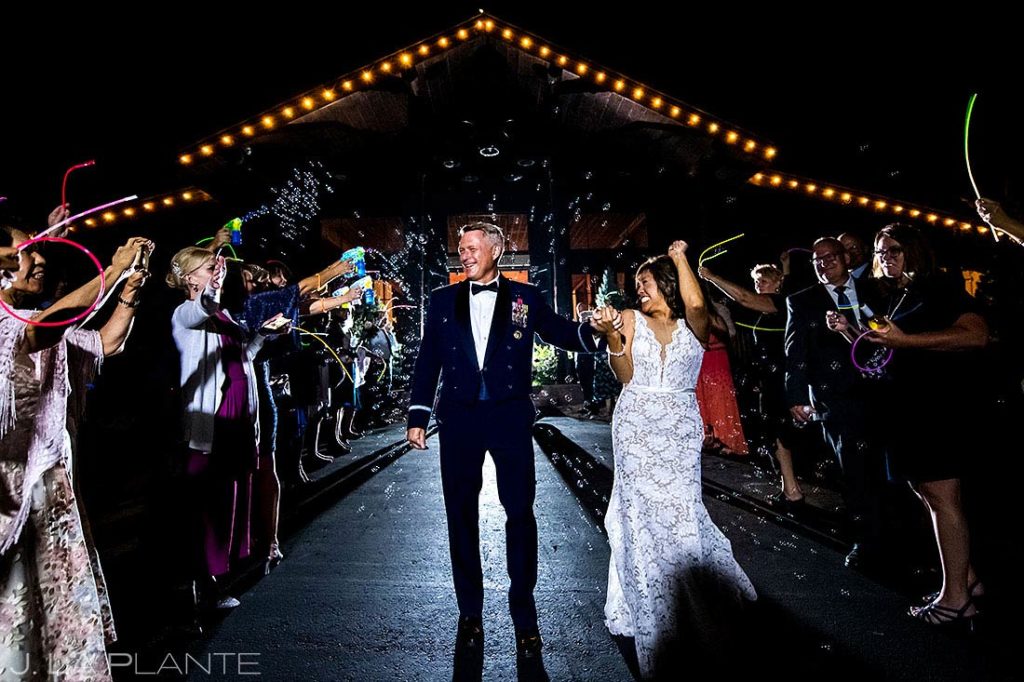 Spruce Mountain Approved!
Unique Send-Off Ideas for your Grand Exit
There are so many details that go into planning a wedding and couples want to make sure that every detail is exactly planned out. One small, but monumental, moment during your wedding is the final exit. This is the moment when your guests get to "send you off" for the first time as a newly married couple.
Every couple wants a unique send-off, but so many ideas are overdone. Showering couples with rice is an archaic tradition dating back to Roman Times, but oftentimes, venues do not allow rice to be thrown because the rice can be deadly to our feathered friends who swoop down and eat it after the wedding revelry has ended. Below, you will find a list of Spruce Mountain approved send-off ideas that are both unique and environmentally friendly.
Photo Credit: From The Hip Photo
1.     Glow Sticks- Ask your wedding coordinator, or whoever is helping you on the day of your wedding, to set out glow sticks before your exit begins. The glow sticks will help light up your final photos as you make your way to your getaway car.
Photo Credit: Dipple Dot
2.     Glow Balloons- Spruce Mountain does not allow helium balloons to be released at wedding exits, but we do allow LED balloons. Light-up balloons are a great way to light up the night as you make your exit.
3.     Lavender Toss- If you're looking for an idea that is unique, but still elegant, we love the idea of having your guests toss lavender. Place sachets of lavender on a table near where you will make your exit. Then, your guests can grab a sachet, and toss the lavender in the air as you say your final goodbye for the night.
Photo Credit: Mallory Byrd
4.     Ringing Cowbells- Spruce Mountain is a working cattle ranch, so we think ringing cowbells would be the most appropriate exit for our venue. The sound of ringing bells at weddings traditionally means that the wedding couple should kiss. What a better way to leave your wedding than giving your new spouse a kiss or two. If you purchase cowbells similar to the ones pictured above they can serve two purposes. Your guests can ring them as you make your exit, and they also serve as a unique wedding favor because they are monogrammed with initials.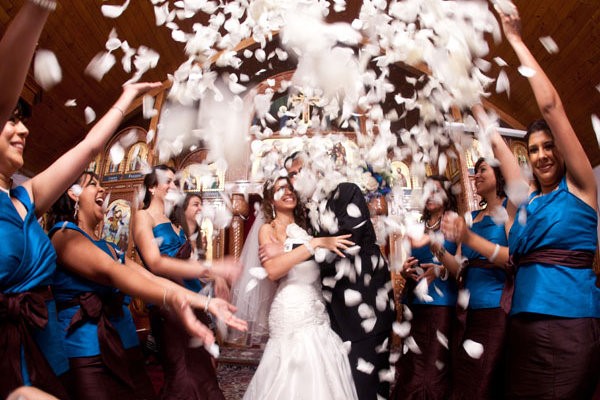 Photo Credit: Matt Andrews Photography
5.     Rose Petal Toss- Having your guests toss white rose petals into the air is a classic way to make your exit. If you have custom calligraphy done for your wedding invitations, ask if they can write your wedding hashtags on paper bags. You can fill these paper bags with the rose petals, and have them waiting for your guests. 
Photo Credit: M Photography 
6.     Ribbon Wands- Ribbon wands are great because you can purchase or DIY them in your wedding colors. They also won't leave a mess behind because your guests can take them as wedding favors.
Photo Credit : Devon John Photography
7.     Fall Leaves- Are you planning a wedding during the fall? Why not gather some leaves to have your guests toss them in the air as you make your exit. The gorgeous red, orange, and brown colors will give your exit photos an extra fall touch. If you have a few extra vases around your house, you can place leaves into them. Then, have your guests grab a few handfuls as they make their way over to send you off.
Photo: Chelsea Brown Photography
8.     Cheer Pom Poms- What better way to leave the best night of your life than to have all of your friends and family cheering you on? You can purchase an assortment of colors of pom poms online at stores like Oriental Trading. Adding pom poms that match your wedding colors is a great way to have your theme tied in from the beginning to the very end of your wedding.
Photo Credit: JM Grant Photogrphy
9.     Smoke Bombs - Smoke bombs might be the most creative trend that are sure to add a wow! factor to your grand exit! This pop of color is a great way to make sure your grand exit is one your guests wont forget. Any smoke bombs that don't require a fuse are A-Okay at Spruce! 
Photo Credit: Katie Stoops Photography
10.     Maracas- If you aren't one to have your guests tossing things at you, than this exit plan is for you. Giving your guest maracas to shake as you walk away as husband and wife is a fun way to celebrate with your guests.
Photo Credit: Jamie Beth Photography
11.     Artificial Snow- If you are getting married in the winter, why not make your exit more magical by having your guests toss artificial snow into the air?! This artificial snow is biodegradable, so it makes for an easy clean up!
Photo Credit: Rock n' Roll Bride
12.     Wildflower Confetti- Our venue does not allow confetti. Instead, we suggest wildflower confetti. This is the perfect exit choice for the boho bride. We love how this couple made paper cones with sheet music. Print out the sheet music from your first dance, and have the wildflowers placed in the paper cones near your exit. Your guest will love the sweet sentiment behind your attention to detail.
Photo Credit: Southern Weddings
13.     Paper Airplanes- This is the perfect idea for the couple who is about to jet-set off for a romantic honeymoon. This idea will cost little to nothing. All you need is a stack of paper and a few volunteers to help with the folding.
Photo Credit: Sarah Roshan Photography
14.      Sparktacular- This cool flame spark machanie is approved to be used both indoors and outdoors at Spruce Mountain! Because it doesn't produce heat or flames it is safe to use all year round! It is also safe to the touch! We are happy to refer sparktacular vendors!
The wedding send-off is a well-established tradition, but we love the idea of updating the tradition and making it unique to you as a couple. Your guests will love ringing cowbells, shaking maracas, or watching sparktacular shoot into the air to celebrate your send-off as a newly married couple. We hope these Spruce Mountain approved ideas helped inspire you to create your perfect exit. If you have any other ideas that you did not see on this list, make sure to check with us to see if they are approved.