During a typical event season at Spruce Mountain Ranch we get the privilege of working side-by-side with hundreds of talented wedding and event industry professionals. Our relationship with these vendors is what makes Spruce Mountain the award-winning venue that it is.  On a typical spring event day at the ranch, it is like watching a ballet of the world's best dancers performing with ease and grace for one common goal; bringing people together and celebrating.   Clearly, COVID-19 has made this impossible for us at this time.
When you love what you do it is not work.  Due to government shutdowns, we have all been told we cannot do what we love.  But, are we really listening?  Thankfully in our hearts the answer is "NO!" 
Typically, this is the time the wedding/ event industry is ramping up to work our busiest time of year.   It is what we look forward to the most!  Wedding/ Event Season!  So, what has the Colorado Event Industry decided to do with this pent-up energy?  We continue to work with a NEW FOCUS and DIRECTION! 
We have been heartened and inspired by the resilience, love, and care of the Colorado Event Industry.  With the re-direction of using their skills, the desire to continue to work, and to do what they love to do, our communities are benefiting. 
Here, we have created a list of the many Colorado Event Industry companies. These companies are working hard to take care of their staff, their communities, and ensure that when this is over they will be strong so they can get back to servicing their customers.  
PLEASE HELP TO SUPPORT THESE BUSINESSES
*Don't forget to bookmark this blog to revisit later to see updates!
CATERERS 
By Design Collective: 
Buy One, Give One: Let us Fill Your Freezer! For every freezer meal you purchase we are donating a meal to our furloughed staff! It's our top priority to take care of the ones, that take care of you! NEW MENUE ITEMS! NEW ORDER LINK! https://catering-by-designs---fill-your-freezer.square.site/
We love their giving hearts! 
By Design Collective is delivering meals to local hospital staff and taking care of their own furloughed staff with their buy one, give one program! 
Biscuits + Berries Catering Company:
Fill the Freezer: During these times of uncertainty, we understand the concerns with even a simple trip to the store. From our kitchen to your front door (or curbside pickup), enjoy delicious meals made with local, fresh ingredients. Also offering freezer ready meals! Contact: luke@biscuitsandberries.com or call 303-277-9677
We Love their giving hearts! Feed The Front Lines: Biscuit and Berries Catering I still offering free delivery to anyone ordering box lunches to be delivered to teams at local hospitals in the Denver-Metro area. "We are incredibly grateful for the sacrifices that are being made by members of the healthcare community currently on the frontlines of this crisis." Their fundraising efforts have reached over $7,000 which equals more than 470 meals!
Buffalo Gals/Cravings Catering/Picnic Basket:
Hug Grub!  Curbside pick up or delivery meals. Check out their online ordering and menu at www.pbcateringtogo.com 719.635.0200 They also have a great care package option you can send to someone in need.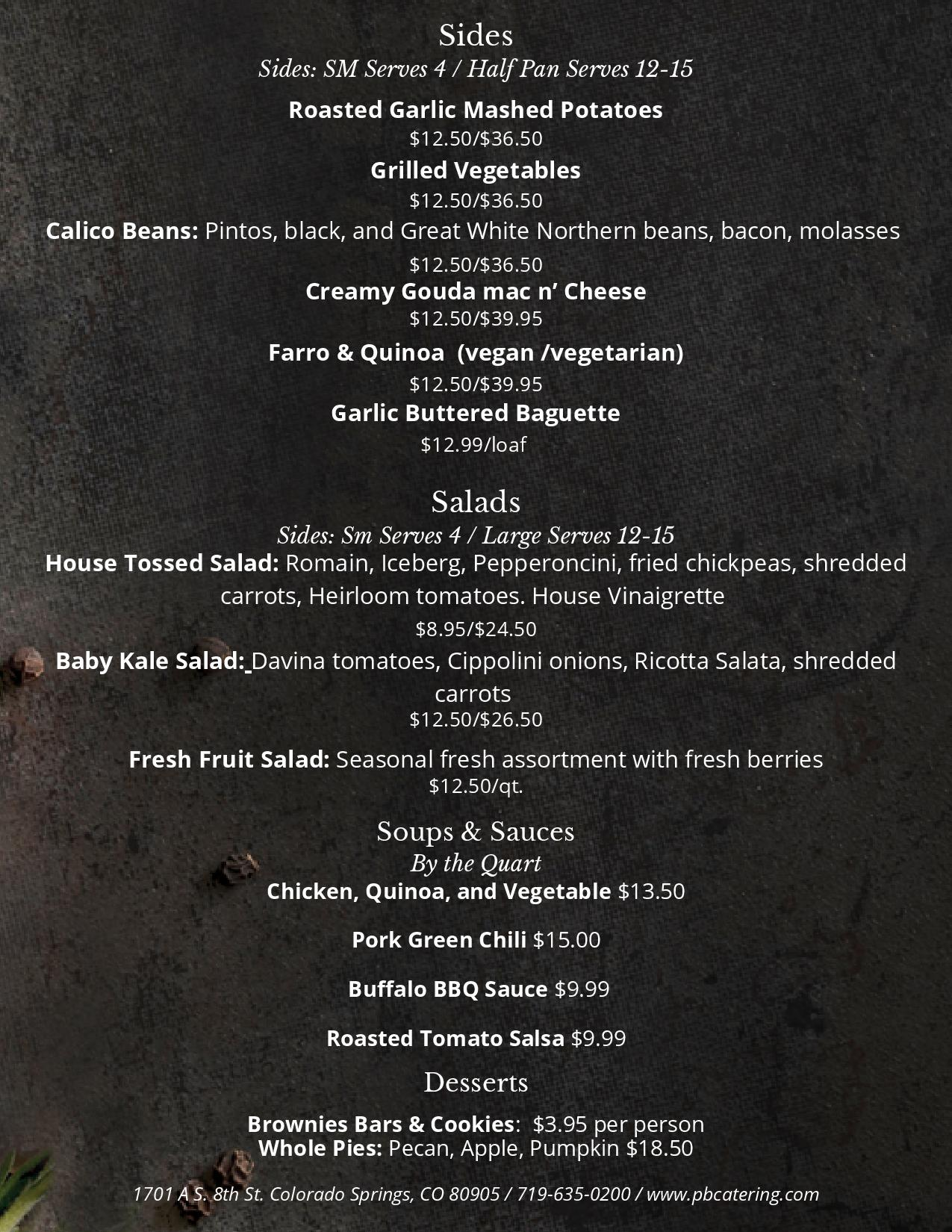 Don't forget their famous curbside grilling at the corner of S. 8th st. and Ramona Ave. 10 am - 4 pm Friday and Saturday!
We love their giving hearts!
Their giving hearts are hard at work quietly donating their services and amazing food to those on the front lines and amazing community organizations such as DHS, Pikes Peak United Way, Care and Share, Ronald McDonald House and many more in the Colorado Springs Community! 
Epicurean
Offering Epic Meals! Beginning on Monday, April 6th, We will be offering delicious individual meal pick ups from our Main Offices! We can make custom meals for you and your family as well. Reach out and order! 303.770.0877
Gourmet Mobile Kitchen for Team Appreciation meals: During this unprecedented time, we know your teams are working hard to sustain business and collaborate effectively. Epicurean is here to help you show your appreciation for these hardworking individuals. Using only the freshest ingredients, we are offering fresh, hot meals that come to you! With the Epicurean Gourmet Mobile Kitchen, we can bring food to your complex or campus and feed your hard working team!
Mangia Bevi, their local café, is open for take out and delivery! http://www.mangiabevicafe.com/
Your mother deserves the best, so let Epicurean take care of the Mother's Day Brunch!
We love their giving hearts!
 Feed Your Community: They have donated to those on the front lines. Fire departments, police stations, health care professionals, district county offices, non-profits, and many more. There are so many people on the front line in this time of crisis. To show your appreciation for them, consider offering anyone in your community a meal. Epicurean is providing breakfast and lunch options. "If you have a specific department in mind, please let us know. Otherwise, we will be happy to reach out to our network to assist." 
Occasions Catering
Family Meal Orders: Denver, we've missed serving you at our full service events, but we've taken some time to focus on how to best help our community.Take advantage of this extra time with loved ones. Stock the freezer with delicious chef-prepared meals, from our kitchen to yours. Head to https://occasionsdenver.com/family-meal-order-form/ to place an order today.Orders can be delivered from 3-5 PM on Tuesdays and Thursdays or picked up from 11 AM-1 PM on weekdays at 1789 W Warren Ave, Englewood, CO 80110.
*Need masks? Add them on to your Family Meal Order!!
We love their giving hearts!
Occasions Catering uses their vehicles for food donation after unfortunate event cancellations. "Thank you to LAEF Colorado and Denver Rescue Mission for helping us feed the hungry and adding a little positivity to this crazy climate."
Footers catering
We Love their Giving hearts!
Hotel Pans for Hope:  Footers Catering decided to help support the hourly workers that they were forced to furlough through a new program called Hotel Pans for Hope. Each week, workers can pick up a complimentary meal made from the food that would otherwise go unused. Anthony said they should have enough food in their refrigerators to provide meals for the next three months. Instead of trying to sell that, we wanted to give it our own," said Owner, April Lambatos – Catersource.com 
During this time of uncertainty, we have truly been tested and challenged. We have realized that we needed positivity and inspiration from each other now more than ever before. In order for our team to remain part of our family, we created a number of resources for them to stay in the loop even when we aren't seeing each other in the office and on events.
We created a meal program called #HotelPansforHope (pictures below) that every member of our full-time hourly team that we furloughed can refill weekly with the food from our inventory at Footers. Our hope with this program was to ensure our Footers Family was still eating well, even if we weren't having our daily lunches together!
We also created a resource center that is updated daily with new information regarding news around the world and community news, as well as assisted them in finding temporary jobs while we cannot provide them with hours.
Check out the rest of the podcast with our owner, April Lambatos, and continue to spread kindness in the world, and it will surely come back to you. https://campexperience.com/2…/95-leaders-at-footers-catering
"While there are still so many things out of our control, we CAN control how we communicate with our teams, we CAN show them we love and care about them, and we CAN put one foot in front of the other. We can evaluate our current situations and move forward by making it better everyday with the knowledge that we will all get through this together." -Anthony Lambatos, Owner
Rocky Mountain Catering
           Take and Bake & Butcher Shop: For the first time ever, our amazing food is now available for pick up and residential delivery. Our hope is to      ease the tension associated with the COVID 19 virus and offer our community delicious food for there families. Check out our menu and contact us at 303-216-0553 or at events@cateringbyrm.com to order or for more information! Also on DoorDash and Grub Hub!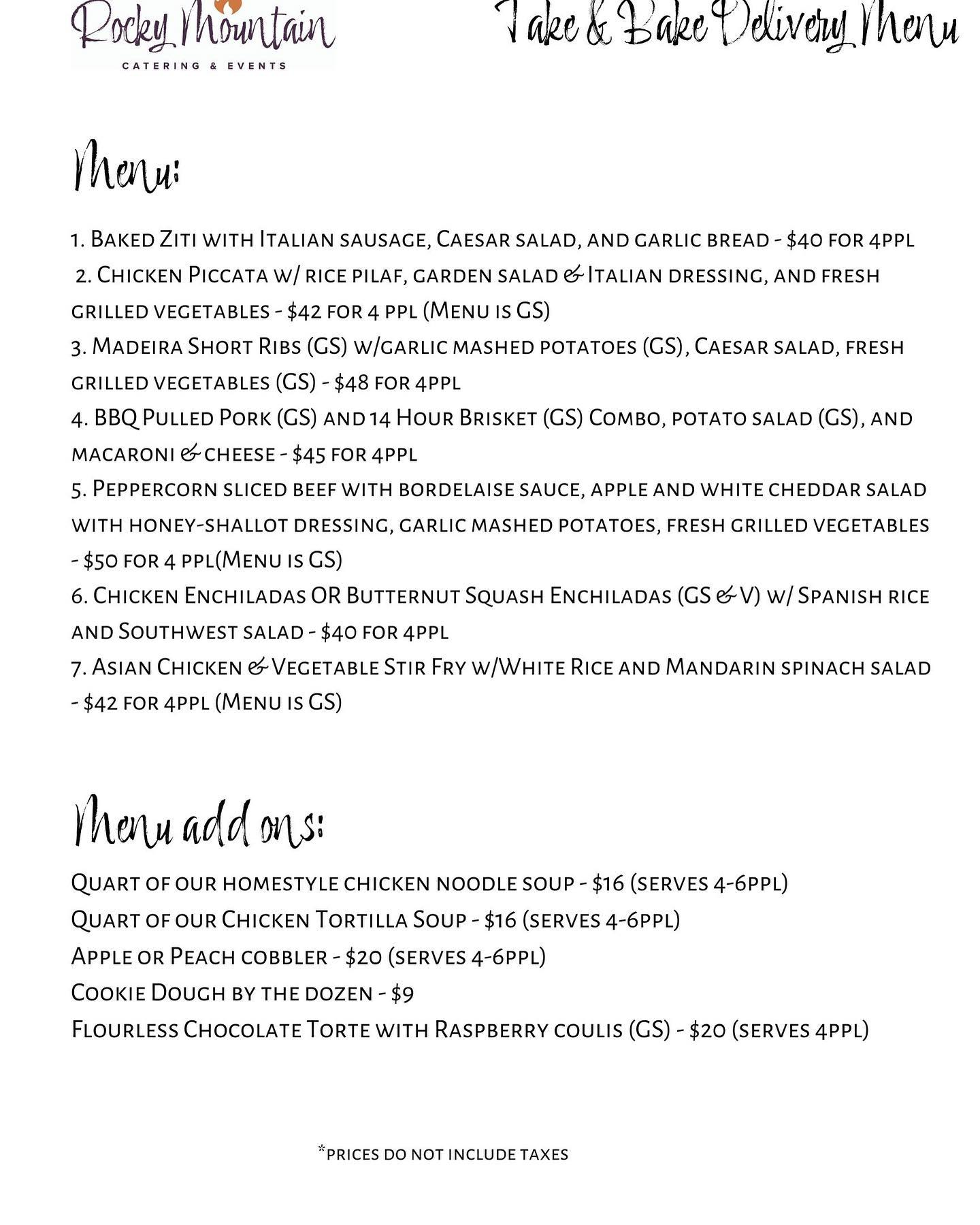 We love their giving hearts:
They will be providing meal donation to local hospitals for their frontline staff, AND for every $100 spent with them, clients can choose to donate a pasta meal to a furloughed employee or family in need. A lot more goodness from RMC come! Stay tuned!
Broken Bones Catering
         Curbside Pick-up & Delivery: We are here to help! We are still offering call in orders and carry out. We will have pre-made meals ready to go as  well as curbside service, so you don't even need to come in to pay! Let us help make meal planning easy.  We are open for pick up and curbside service every day 11-7 and delivery every day 4-7pm. Call now to place your order! Delivery locally from 4-7 pm. 719.487.0471
Peak Beverage Catering 
          The Liquor Store is open for business! Hours of Operations: 10:00 am - 10:00 pm
          Check out their new App! New online customers get 10% off their first order. 
      Peak Beverage is also offering Free Delivery on orders over $50!
We love their giving hearts:
      In efforts to aid the community and do what we can, we will be utilizing our catering resources to add grocery stock into our liquor store  located on 4375 Brighton Blvd, Denver.
   "We will be selling restaurant-sized bags of pasta, rice, dried beans, olive oil, and other pantry staples, along with water bottles, paper towels, and other household supplies. We hope to help as much as we can during these trying times and thank you for your support!"
WEDDING VENDORS
From the Hip Photo:
Buy a gift certificate for a future shoot, get $100 off! Inquire for more information about current discount offers! 
chat@fromthehipphoto.com  720.390.5995
We love their giving hearts:
Pay What you Wish Photo Session: 20,000 of our Colorado neighbors have filed for unemployment over the past days. If a new headshot will help your employment search, email chat@fromthehipphoto.com to set up a pay-what-you-wish photo session at our studio. *Currently discontinued during stay at home orders, but please keep in mind for times when the orders are lifted.
Privé Events
Spring Boxes: If you know someone who could use a touch of joy in their lives, we have created a Spring Care Package for those who could use some happiness! Purchase your order by April 9th at www.priveeventdesign.com/shop for a non-contact delivery on April 11th!
https://www.priveeventdesign.com/blog/spring-bloom-box
If you are looking for other ways to support other vendors like florists, beauticians, restaurants & retail stores, purchasing gift cards are a great way to help bring in some revenue now & future business when things have returned to normal. Purchase gift cards online at www.priveeventdesign.com/shop
Something New Boutique
Experience Something New at home! During our closure, we are STILL available to brieds who are waiting to find their dress. We are now offering virtual styling appointments! We've got your back, girl! Life is still happening and still worth celebrating! We're hear with you every step of the way!
Bridesmaids Viral Experience Video  Clousure Discounts! Bridesmaides dresses discounted to $175!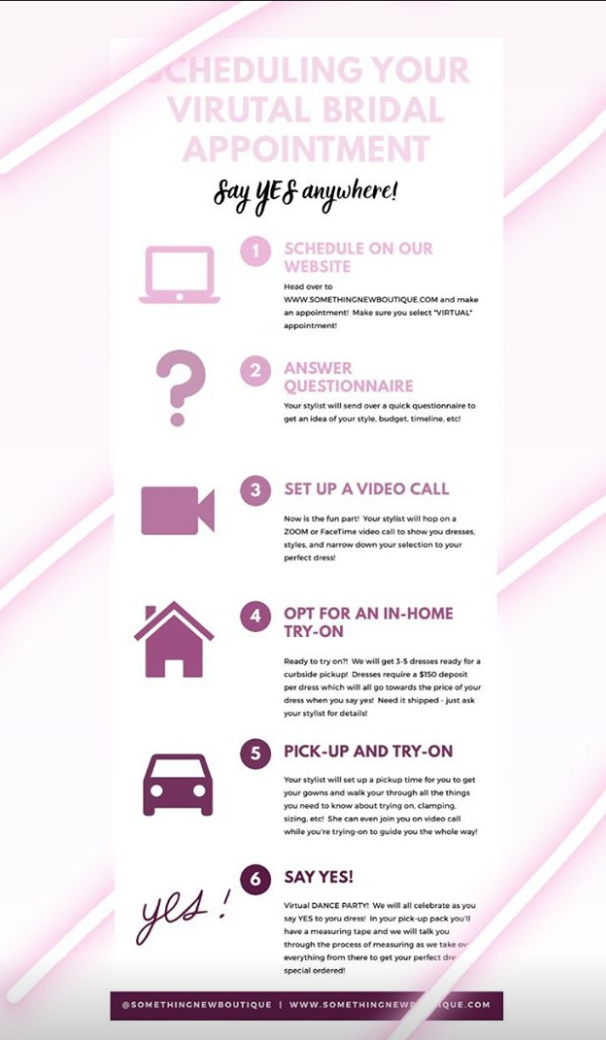 We love their giving hearts:
       Something New Boutique donated their garment bags to be used to make masks for those workers on the      frontlines! 
Max and Livie
        Wedding Stimulus Relief Fund: We're extending 38% OFF of our entire inventory for all wedding and social events happening later in 2020 when it's safe to do so. Book with us by July 31st! 
Sugarplum Cake Shoppe
      Sweet Treats: Get some sweets and treats or grab one of our cupcake and/or cookie kits for something fun to do at home! As usual, we are offering takeout, curbside pick up, and delivery (for orders $20+). Please message us online to place an order.
Gold Mine Cupcakes
         CALL-AHEAD and CURBSIDE pickup: We look forward to seeing you between 11 am and 3 pm Wednesdays through Saturdays. Providing everyday and special occasion treats, At-home Cupcake survival kits complete with 6 cupcakes, a frosting bag and numerous different sprinkles!  Pup-caked are also available for your furry friends!
     "To all of you who have called, messaged, and dropped by the shop during this crazy, surreal time. We have been blown away by the support from our wonderful customers in this community we consider home. We know cupcakes may not be at the top of the "essentials" list, but seeing the smiles on your faces when you pick them up is essential to us. We'll get through this together....with a little help from you, our community and maybe a few extra sprinkles!"
The Bridal Collection
We love their giving hearts: The Bridal Collection is working hard to sew and deliver masks to our community! After learning that our garmet bags are made from similar material as surgical masks, we quickly got to work, making over 100 for our Douglas County First Responders and St. Joseph's hospital. We are working everyday to make masks, so if you know someone in need, please reach out to us. While we miss working with our beautiful brides, we will be staying home safe, sewing masks to flatten the curve and supporting our health care workers, first responders, and our community.
Ali & Garrett Photography 
Complimentary Adventure Session for Frontline Workers: We are offering a free adventure session ($1200) with any booked wedding to those that are nurses, doctors, LE, EMT and fire. 
Sarah Roshan Photography 
Complimentary Engagment Session: Engagment session ($800-$900) with any full wedding package booking.  Also offering $100 off any prepaid portrait session!
There are so many great vendors to be celebrated! We'll continue to add to this list, so please come back and visit this blog to learn more about what our amazing industry is up to!
Vendors : We want to feature your business! If we don't have your information listed above, please send an email to emondragon@sprucemountainranch.com so we can add you to our list.